Tesla's Resonant Theory Of Electromagnetism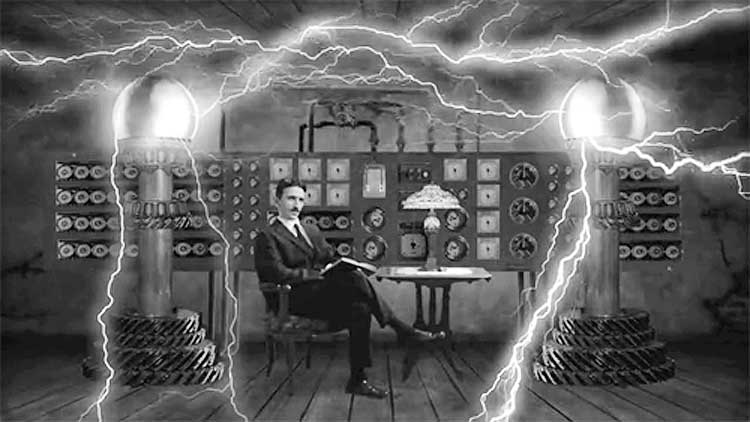 by Prof. Velimir Abramovic, PhD
Tesla didn't give us his own theory of physics, but with numerous experiments, he created a basis for a new, resonant understanding of electromagnetism. He considered that the world is a uniform, continuous, electromagnetic medium and matter is one of the manifestation of organized electromagnetic oscillations described by a mathematical algorithm. He considered that resonance is the most general natural law, which eliminates time and distance, and that all relations between phenomena are established only by mean of various simple and complex resonances, i.e. coordinated vibrations of physical systems, which have an electromagnetic nature.
Finally, instead of Newton's integrals, Leibniz's differentials and Maxwell's theory lying in his calculations, Tesla used simple the mathematics of Ancient Greek mathematician Archimedes, first making an analogy between mechanics and electromagnetism. It is not possible to fully evaluate the significance of such method of thinking, which directly points out the necessity of full physical interpretation of elementary mathematical notions.
Obviously, the study of Tesla's heritage is not related only with history of physics. We shouldn't look for technological aspects; its essence is in miraculous human creativity in science. Tesla's scientific ways need understanding and following. We need analysis of Tesla's evidence relating with creativity lying in the base of new physical and technical processes discovered by him. It leads to opening a new way of cognition. It is important to understand the original scientific and research methods of Tesla and non-developed cosmic principles (relation), which are realized, with the world of ideas.
Tesla could create visual images competitive with images perceived by the eyes. He changed the usual direction of nervous impulses in the opposite direction, from brain to retina, eliminated external images and substituted it with eidetic one. Tesla sent his impulses from "inside". He called it his mental laboratory. In addition, it was his main method of experimenting. He had an ability to transfer mathematical, abstract notions into visible images, give them geometrical interpretation, and than transfer them into a form that could be physically realized, and form working models for realization of each device. He "made corrections" and adjusted a device for operation in his mind. Later, when this device was made, of wire or another material, it always worked. As Tesla said, there was not a case when such invention didn't correspond to nature, i.e. didn't work as a physical prototype. His method was unique in comparison with other scientific prodigies, for example, Michael Faraday, or Albert Einstein. Tesla, who felt a kinesthetic premonition in the moment of discovery (it was pressure and motion in peritoneum region), had some kind of mental stress in the moment when an idea appeared. Dmitry Mendeleev dreamed of the periodic table in three dimensions colored with bright almost fiery red colors like it is in all prophetic dreams. However, this is very rare, with few people and only at certain moments. Tesla was in this condition all his life, and had trained during many decades to maintain his spiritual and creative activity.
Tesla was a man, whose main philosophy and axiomatic didn't belong to the modern world. We can attribute him to the epoch before Socrates, from ancient philosophy. It was not an accident that he was born on Balkan Peninsula. Ancient civilization appeared in the southern part of this peninsula. Probably, the reason is a different geomagnetic informational field, or an algorithm, which is general to the evolution of neural structures of the brain, and possibly and explanation to the creative and brilliant minds of Pythagoras, Plato, Zenon and Tesla.
Tesla's physics requires a quite different understanding of mathematics, in some extent it is sacral in the spirit of Pythagoras. Pythagoras considered that numbers and subjects are interrelated. They correspond to each other in property due to informational and mathematical aspects of matter existing as one of the manifestations of the Divine Logos. Attentive researchers can immediately notice that there are no infinitesimal or differentials in Tesla's works. Tesla knew James Maxwell, creator of the theoretical electromagnetism. He told (Maxwell) that his elegant differential equations are as poetry. One could find Maxwell's works in Tesla's library; these works were published when Tesla was twenty and he was a student in Graatz. There is no reason which allows to explain why Tesla didn't use them except one:
Tesla discovered a more simple and more effective way and more felicitous physical interpretation of mathematical notions. By means of these notions, he foretold the course and results of his experiment. It is evident that he was a man of such strength and astuteness that he could keep away from conclusions of science, its systems, notions and mathematical apparatus, which were far from perfection. It is not accidental that Tesla didn't publicize his diploma. It was an indication of his spiritual independence for him, but not idleness or revolt as it can be some times.
His method of work could turn him to the absolutely different direction. It proved that he could control the essence of his psychic visions and other conscious or unconscious manifestations that were the basis of his creation. In the moment when he felt effects of impulses coming from outside, he could override them, control and analyze. He could do impossible things. By means of exercises, which he developed himself, he got up to the level of a man who does not depend on impulses provided by the external world, but relies on his own inner psychic states. This essence of his genius was that things understood by him and that appeared in his subconscious under the influence of an external field, was nothing but a picture of cosmic processes or the same natural laws. Because of it, he was distinctly different from other people. Regarding the rotation of a magnetic field, with which the rotor of an engine began to rotate under the influence and changes taking place in the external field, Tesla said, "Now I know how the Cosmos works".
This is the source of Tesla's theory on people as "automates of cosmic forces." If we add Tesla's practical discovered axiom, that the energy of a system is derived from its environment, than we will find the reason for his conviction that the entire Cosmos acts on the principle of vibration and resonance. Finally, if we agree with the fact that all energy of a system appears under the impact of external induction, than it will be easy to fancy Tesla's cosmological model as a series of circuits of magnetic fields, which rotate concentrically. The Galaxy rotates, the Solar System rotates around the center of the Galaxy, the Earth rotates around the Sun, and molecules, atoms and electrons rotate … All this is nothing but a range of rotating magnetic fields, which can be described by only one law, the same law that was responsible for starting Tesla's inductive motor.
An open question is about Tesla's real understanding of time and space categories. We can say with certainty that his research of how low frequency electromagnetic waves are transmitted through the Earth, Tesla didn't face the problem of conjugation of force and space, as, for example, the General Theory Of Relativity. This theory has some complexities in its physical explanation of differential equations, which describe the properties of curved space under the influence of gravitational forces of differening power. According to this theory, the constantly increasing attractive force can influence time itself, returning events back and violating the principle of causality.
Rene Decart, in creation of his coordinate system, used the same geometrical notion to picture abscissa and ordinate. They are two straight lines – interminable in their lengths, which he interpreted as time and space, as if there is no difference between them. Is it possible? It is hardly possible! You know, space and time are different physical categories and we don't currently understood their nature. Besides, abscissa and ordinate are divided by an angle, which does not have a special physical interpretation. That's why picturing physical phenomena in so geometrical a way, we risk not taking into consideration the criteria of reality in checking mathematical hypotheses.
There is no doubt that Tesla, by means of his physical research, discovered a fundamental physical law, which is not clear yet, and applied it so easily and with such astuteness, that a dilettante as well as a specialist could similarly understand that he spoke about exact knowledge. But, it is hard to imagine what these mathematical operations of division and multiplication, natural algorithm or square root, taken separately, which are significant in Tesla's experimental works, actually WERE. Physical explanations of mathematical methods, especially univocal, is situated on the boundary, from where we can see the field of transcendental mathematics. However, it is evident that if all physical reality can be reduced to the mutual relation of electromagnetic fields, then this mathematics is a theory, which can express the essence of these connections most effectively.
If electromagnetic oscillations correspond to the (mental plan) discovery made by Tesla at Colorado Springs (and is still proved experimentally now), then it means that this mental plan itself should have the same nature and follow the laws of resonance. A conclusion arises that numbers are some "programs" of organization. Tesla's research, as it were, proved the Verity Of Cognition theory, by Plato. In his theory, Plato stated that mathematics is a link between rhe world of ideas and the world of material phenomena. To be more precise, mathematical algorithms and mathematical logic is properly a method to realize ideas. Finally, all old innermost legends teach that matter is only a concentrated light, and it is Tesla's all-penetrating cosmic substance, Luminoferous Ether.


Posted in Nikola Tesla, Other Topicswith no comments yet.